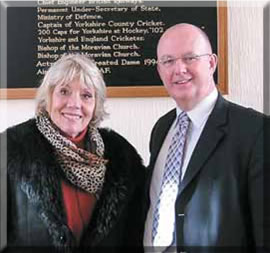 Diana Rigg was born in Doncaster in 1938 and spent her early childhood in India. She was at Fulneck Girl's School in the 1950's. It is fair to say that she did not enjoy her time here – finding herself at the rather spartan school, as it was then, must have come as somewhat of a shock to her.
On a visit back to school in 2007 she explained to Fulneck School Principal Trevor Kernohan, "It wasn't that I disliked the School. I just didn't like the system and I rebelled against it. However I'm sure if my parents had sent me here today I would have been a far less troublesome pupil!" However Dame Diana's career as an actress started at Fulneck. She was inspired by Sylvia Greenwood, her Speech and Drama teacher, who helped her discover a love for acting.
Dame Diana went on from Fulneck to study drama at RADA. She worked in Repertory theatre and then joined the Royal Shakespeare Company. She became a household name playing Emma Peel  in the Avengers. Her acting career has been varied and distinguished on stage, television and film. In 1994 she was made a Dame of the British Empire.
Dame Diana died at her London home in 2020, at the age of 82.