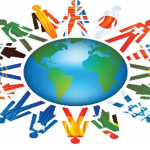 If like me you have been watching 'Inside Hotel Chocolat' (yes, I am a chocoholic!) then you will recall some of the challenges of going global – appointing leaders in new countries, branding the business for the global market, adapting to new cultures. Hotel Chocolat is on what may feel like a well-trodden 21st century path. However, the Moravian Memorial Day celebrated on 13 November each year reminds us that the young church faced such challenges.
Here I hope to outline the challenges that led to the Memorial Day when Christ was announced as the Moravian Chief Elder.
In the twenty years since the founding of Herrnhut in 1722, the religious community had undergone many changes. By the early 1730's numerous missionaries had set out from Herrnhut and were establishing congregations in other parts of Europe, the Caribbean, areas of both northern America and southern Africa; some brave souls even made it to Arctic Russia (and no thermal underwear in those days). Let us remember, Count Zinzendorf first saw Fulneck in 1743 and it was established as a settlement by 1748.
Such growth was bound to bring both joy and numerous practical difficulties. This resulted in a number of Synods in 1740 and 1741; this was the meeting of senior figures who aimed to agree matters by consensus, often using a ballot for decisions. At the Synod in June 1740 the name 'Moravian Brethren' was formally adopted to replace Herrnhuter for members; immediately this recognises the expansion beyond the first settlement. Naming and branding are important when going global.
The Synod also moved around some key players. Leadership appointments were essential to help the young congregations grow; just like any global organisation today, strong and effective leadership with sensitivity to local needs is vital. Leadership in such situations can be very demanding and sometimes leaders are over-stretched; today this would be called burnout. At the Synod in December 1740 the Chief Elder (Leonhard Dober) offered his resignation; at the same time, Count Zinzendorf also wished to step down.
Although the resignations were not immediately accepted, by September 1741 another Synod was needed to address the leadership. Many nominations were put forward …. But none were accepted … I guess they were fully aware of the need for leaders with many skills and a breadth of understanding … finding the right person was a real challenge. Possibly frustration was setting in, calling for a new activity ….
Time to look to the Watchword texts being prepared for the following year. In the texts for 24 and 25 March they found an answer (the texts are quoted at the end of this article). They reflected on these texts and then asked themselves "Should Christ be our Chief Elder?" Resounding agreement …. YES.
So, why is the Memorial Day 13 November when the Synod was September? You've heard of those organisations today who release significant announcements on social media before telling their employees? Thus, leaving the staff feeling ignored and under-valued. Synod back in 1741 was not going to fall into that trap. A young global church aimed to get the announcement to all congregations, and hence the celebration is not until November.
Today the Moravian Church is most definitely global and Christ is the Chief Elder. As Moravians, we are part of what is called a Worldwide Unity that consists of more than a million people in more than 40 countries around the world.
The Memorial Day offers us the opportunity to consciously renew our pledge, both individually and as a congregation to Christ as our Chief Elder.
This year we are still facing challenges, not least being unable to come together face-to-face in our churches. However, the benefits of technology, one of the main drivers of modern globalisation, can help. For example, there was a service of celebration and thanksgiving on Zoom on 13th November 2020.
Prayer for Moravian Memorial Day
The realisation of the Headship of Christ in 1741
Lord Jesus, we thank you that your Spirit awakens our understanding of your truth, and reveals new insights to your people in every age. We rejoice in the affirmation made by our forefathers that you are the Head of our Church, which we confirm in our own experience today. Help us to learn to live together in peace as brothers and sisters. Teach us the joy and freedom that comes from serving others. Remove from your Church all striving for power and status; and may all Christians draw nearer to each other, united in their confession of you as their Lord. Amen.
From: Daily Watchwords.
Here is a quote from 'History of the Moravian Church' (page 73) showing the actual text that informed the decision made by Synod on 16 September, 1741.
At the outset of our deliberations we opened the new Text Book. There we read on one page: 'May our door be open unto Christ,' and on the other: 'Thus saith the Holy One of Israel, and his Maker: Ask of me the things that are to come; concerning my sons and the work of my hands, command ye to me. To your Jesus – He's your safeguard – Jesus ever  will protect you – Against all who would afflict you – He's your shield.' [The watchwords for March 24 and 25, 1742.]
The watchword for the day also seemed singularly appropriate to them: "The glory of the Lord filled the house," Ezekiel 43:5. "We bow ourselves before thee – who appearest as the Lamb!" Revelation 21:23.