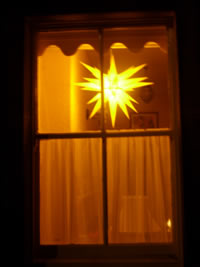 Visitors to Fulneck at Christmas time will not fail to notice the huge white star hanging from the Church bell tower and other stars visible in cottage windows. In the Church there is another huge star hanging over the Communion table. These Christmas stars are a great tradition of the Moravian Church. Their origin was in the 1830's in the Boarding School in Niesky, near Herrnhut in eastern Germany. Paper stars were made as a lesson in geometry and then became a craft activity  for the children boarding in the school.
Over the years this tradition of hand made paper stars has became a popular Advent and Christmas symbol and decoration in Moravian Churches in Germany. This lovely tradition then spread to other Moravian Churches across the world.
Many congregations and families in Eastern Germany still make their own stars from paper and the biggest paper star – over 6′ tall – hangs at Christmas in Niesky Moravian Church. The world's largest Moravian star is 31′ tall and is in Winston Salem, North Carolina, a town that originated as a Moravian settlement.
Moravian stars are now made in a workshop in Herrnhut connected to the Moravian Church and their web address is www.herrnhut-stars.com. Moravian Church House in London also holds a stock of these stars.
The stars are put up in Moravian Churches and homes on Advent Sunday and taken down at Epiphany.
The stars remind us of God the creator who made the stars; of God's promise to Abraham that his descendants would be more numerous than the stars; and, of course, of the star that led the wise men to worship the infant Jesus in Bethlehem. Finally the Advent star always points to Jesus, who said, "I am the bright and Morning Star." It is the star of promise, the star of fulfilment, and the star of hope.