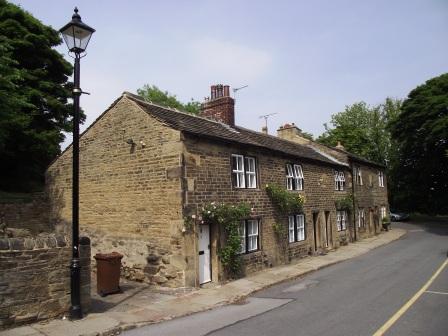 For groups visiting Fulneck, we do an organised tour of the Settlement.
These need to be booked in advance. Dependent on the availability of our volunteer tour guides, the tours are not just restricted to Museum opening times and we try to be as flexible as possible.
The tour starts in the Church with a short history of the Moravian Church, then we walk through the settlement towards the burial ground. In adddition to sharing the history of various buildings that form the settlement, you will visit the private terrace. This is reputed to be the third longest in Europe after Hampton Court and Versailles, with breath-taking views across the valley to Tong Village. We finish with a visit to the Museum.
The price of the tours is £5 per person. A light afternoon tea may be available at a small cost per person. If we are not able to provide refreshments, Café 54 is situated in Fulneck and is open most days. Tours usually take between 45 minutes and and an hour.
Anyone interested in a group visit can contact:
Maureen Ingham
0113 2565180
theinghams3@btinternet.com
The booking form can be downloaded here: Museum tour form 2023
If you have family, friends, or know of any groups who may be interested in a visit to Fulneck, please pass on our details.