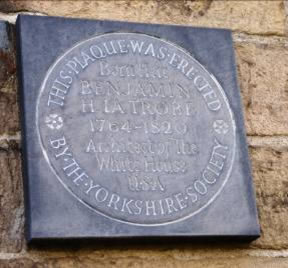 The White House, Washington, with its gracious portico, and the Capitol's imposing outline are often flashed on our television screens, yet few in this country realise that an Englishman, Benjamin Henry La Trobe, was the architect involved with much of their structure.
B.H. La Trobe was born on 1 May 1764 at No.34 Fulneck, son of the minister, Rev. Benjamin La Trobe, and his American wife, Anne Margaretta Antes. Young Benjamin Henry was educated at Fulneck School and later at the Church's academy in Niesky, Germany. After a  period in the Prussian army, B.H. La Trobe returned to England and studied architecture under Samuel Pepys Cockerell then worked with him on the Admiralty building in Whitehall. La Trobe designed several buildings in England, including Ashdown House and Hammerwood House, both in Sussex.
After various frustrations in business and the death of his young wife, Lydia Sellon, by whom he had two children, he emigrated to America in 1795. He married Mary Elizabeth Hazlehurst in Philadelphia, his mother's hometown, on 2 May 1800. Mary was to prove a devoted wife and mother, especially when he brought his two children, Henry and Lydia, over from England. The couple had more children.
La Trobe's first major American commission was for the State Peniten­tiary in Richmond Va.(1787) and he was soon flooded with work. Its scope shows his amazing versatility.  Among his designs were plans for banks, a military academy, hospitals, a custom house, churches, a cathedral, a naval dry dock, private residencies and cemetery monuments! La Trobe was one of the first to revive the style of ancient Greece with its graceful columns and simplicity of ornament. La Trobe also designed interiors and fittings. The interior of the R.C. Cathedral of Baltimore, for instance, is his design down to the altar and family monuments. His plans for the building caused controversy at first, as revolutionary designs often do, but on completion the trustees wrote, "the various details form one grand and beautiful whole." La Trobe gave his services gratis for plans of religious and educational establishments, possibly influenced by his Moravian Church background.
Thomas Jefferson (American President 1801-1809) was a life-long friend. He appointed La Trobe Surveyor of Public Buildings and asked him to remodel the White House. Besides structural work there remains in the House today a chair and fireplace with over mantel mirror which La Trobe designed. La Trobe started work in 1803 on the lengthy process of completing the Washington Capitol. It was burned down in 1814. La Trobe said that he was repairing "a most magnificent ruin." He had a free hand with the interior decoration and brought the landmark still nearer completion.
No less remarkable were La Trobe's engineering achievements. Before leaving Yorkshire he had trained under the noted Leeds bom engineer, John Smeaton, who built the Eddystone Lighthouse. With Yellow Fever rife in America a supply of clean water was essential for the health of the nation. La Trobe devised a scheme to bring river water to the city of Philadelphia, using steam pumps. His son writes that, on 21 June 1801, his father "with three gentlemen, his friends, and one of his workmen, kindled a fire under the boiler and set the ponderous machinery in motion while the city was buried in sleep." Next morning the citizens awoke to "water gushing from the hydrants." La  Trobe collaborated with Robert Fulton, the pioneer of steam navigation, until Fulton's death in 1815.
La Trobe's talented drawings and water colours leave an account, not only of his architectural and engineering achievements, but are also an invaluable record of the young American republic. His whole collection of papers constitutes the largest known of any architect in the world, approached only by that left by Sir Christopher Wren. In America, before La Trobe's time, there were only the inspired amateur builders. La Trobe left an enduring school of qualified architects, stemming from his personally trained pupils.
Benjamin Henry La Trobe must have saved many lives through his water projects, but unfortunately Yellow Fever claimed him and he died of it on 3 Sep. 1820, aged fifty-six. He was one of the foremost architects of his time and his illustrious American career spanned twenty-five years. (La Trobe's two surviving sons distinguished themselves in the construction of the Baltimore & Ohio Railroad).
Notes: A commemorative plaque given by "The Yorkshire Society" is on No. 34 Fulneck at the West side of the Church. The Pulpit in the Church was designed by the architect's father. Rev. Benjamin La Trobe.
Information taken from the leaflet 'EMINENT MORAVIANS No. 1′ (1995) by Margaret Connor and available at Fulneck Museum